北京夕阳秀中老年文化事业发展基金会, 堪培拉中华文化协会联合澳洲各大协会及其他国家的一些社会团体定于2014年7月30日(星期三)在悉尼歌剧院联合主办"为未来而来·2014首届国际艺术节"
"Gather Together for the Future: The First International Arts Festival 2014"  is to be held at the Sydney Opera House on Wednesday 30 July 2014 commencing at 6:30pm.
This International event is proudly brought to you by the Beijing Sunset Show Senior Culture Undertakings Development Foundation, visiting Australia for the first time, supported and accompanied by a group of senior art lovers from Europe, Asia and Australia for a spectacular community performance.
The purpose of this international culture exchange and friendship enhancement event is to present culture and art performances by seniors or retirees to set an example to encourage more elderly people to live a more vivid and happy life by participating in cultural and art activities.
The life experiences of the seniors involved can also be expanded through opportunities to visit other countries to perform and promote cultural and art activities with local community organisations and build supportive network around the world.
As the hosting country, we proud to support this first international event to be held in Sydney Opera House.
It is expected that this spectacular first event will bring together a considerable number of performers all over the world to come to Sydney and set the milestone for the regular world-wide events in the future.
If you are interested in watching the performances at the Opera House Sydney, please contact the following people for further details and getting tickets:
Mimi Zhang email: mzhang@iinet.net.au contact: 0402399637
Chin KF Wong email: Presidentactcaa@gmail.com contact: 0417686096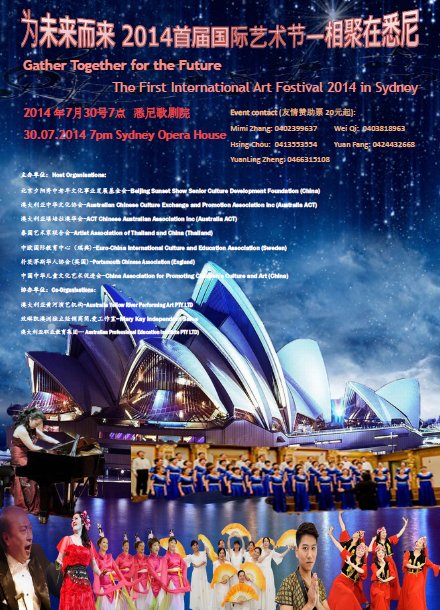 Gather Together for the Future